When:
September 15, 2021 – September 16, 2021
all-day
2021-09-15T00:00:00+10:00
2021-09-17T00:00:00+10:00
Where:
Sofitel Brisbane Central
249 Turbot Street
Brisbane QLD 4000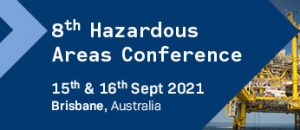 This conference has been created for those concerned with the safe use of electrical, mechanical and instrumentation equipment in hazardous, flammable or explosive atmospheres, thus preventing accidents and injuries in the workplace. The content of the conference will focus on the latest standards and how best to apply them, ensuring compliance for hazardous area audits. Experienced speakers will examine the critical issues involved in the management of hazardous areas.
Conference topics include:
Hot Buttons in Adopting IEC Standards for Hazardous Areas
The Ethernet of Things in Hazardous Areas
Overcoming Barriers to RBI With Digitised HA Management
The Risk Based Approach to Hazardous Area Classification
Static Electricity – The Shocking Truth
Explaining the IECEx Certificate of Personal Competency Scheme
Type B Gas Appliances – Certification and what to check for
Application of Hazardous Areas and impacts on the Renewable Energy Sector
Punching above our weight in Ex standards and certification
The (not-so) hidden cost of HA classification by (invalidly applied) example
Governance of Hazardous Area Auditing
Conformity Assessment Documents and Fitness for Purpose Reports – the nature of each and their application
Hazardous Area Classification – The Next Generation
Identifying and Mitigating Ignition Risk using Standards ISO/IEC 80079-36, 37 and 38
Download the full event brochure HERE. Register online below or email your registration form to conferences@idc-online.com. If you experience any difficulties, please call 1300 138 522 and ask for Emma.
DISCOUNTS – We are offering a 10% off early bird discount until August 18th 2021 (SAVE $179.50 per person) plus a 3 for 2 offer – register 3 delegates and only pay for 2 (SAVE up to $2154). Discounts are applied at online check-out.