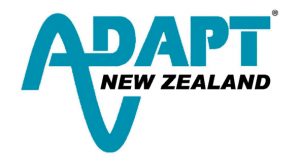 Business Name – Trading As:
ADAPT New Zealand Ltd
Products and Services:
Energy Distribution & Transmission, Energy Safety, Environmental Compliance, Network Automation, Power Quality & Efficiency Switchgear, Polymeric Insulators, Overhead Fuse Assemblies, Real-Time Digital Simulator, Superior Earthing, Cable and busbar connectors.
Company Message:
Since 2003, ADAPT New Zealand as manufacturers, equipment supply partners and engineering service providers is recognised for its capability and expertise in the supply and technical support of both high and low voltage power transmission and distribution equipment to the Utility, Mining, Industrial and Contractor sectors of the Electrical Power Industry.
Quality is at the forefront of the ADAPT New Zealand Family Values. All products are sourced from Local and Overseas based Manufacturers, all of whom are highly respected for their technical expertise along with their ability to provide high quality innovative products that meet or exceed our customers expectations.
CONTACT DETAILS
Company Name: ADAPT New Zealand Ltd
Phone: 64 2150 7831
Email: sofford@adaptnz.com
Web:  www.adaptnz.com
ADDRESS
25 Hampden Street, Picton, 7220 Marlborough NEW ZEALAND
CONTACT
Name: Steve Offord
Phone: 64 2150 7831
Email: sofford@adaptnz.com