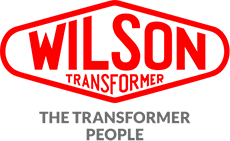 Business Name – Trading As:
Wilson Transformer Company Pty Ltd
Products and Services:
A wide range of distribution (≤7,500kVA) and power (≤400kV) transformers and associated products, as well as a wide range of transformer services and support.
Company Message:

Established in 1933, Wilson Transformer Company (WTC) is Australia's largest manufacturer of power and distribution transformer solutions operating two state-of-the-art manufacturing facilities in Melbourne and regional Victoria and service facilities across Australia and in the UK.
WTC offers end-to-end transformer solutions, including product specification review, design, manufacture, factory acceptance test, installation, condition monitoring, maintenance and repair services, spare parts and asset disposal.
WTC is a proud Australian based and owned business that is committed to supporting critical energy infrastructure and heavy electricity users across Australia and in targeted overseas markets.
CONTACT DETAILS
Company Name: Wilson Transformer Company
Phone: +61 (0) 3 9560 0411
Fax: +61 (0) 3 9560 0499
Email:  powersales@wtc.com.au
Web: www.wtc.com.au
ADDRESS
Corporate Office: 310 Springvale Road, Glen Waverley, Vic 3150, Australia
CONTACT
Name: Lisa Maro
Phone: +61 457 926 338
Email:  lisa.maro@wtc.com.au